Hi and welcome to my little unofficial website!!

I created this site from scratch in HTML as an assignment for a class in HTML and Javascript while working on my Master's degree in Computer Science at Sacred Heart University in Fairfield, CT. I graduated in 2012 with Honors and a 3.90 GPA. I also completed a Graduate Certificate of Database Design as well as a Graduate Certificate in .Net Technology during this time.

I am a software developer by trade. I'm currently working on converting a line of software for the Shipbrokerage industry from Delphi to .Net. for Brokerbase Systems Inc.

Into sailing? This is my sailboat, pictured on an outing in Candlewood Lake (with my wife somewhat hidden behind a tree).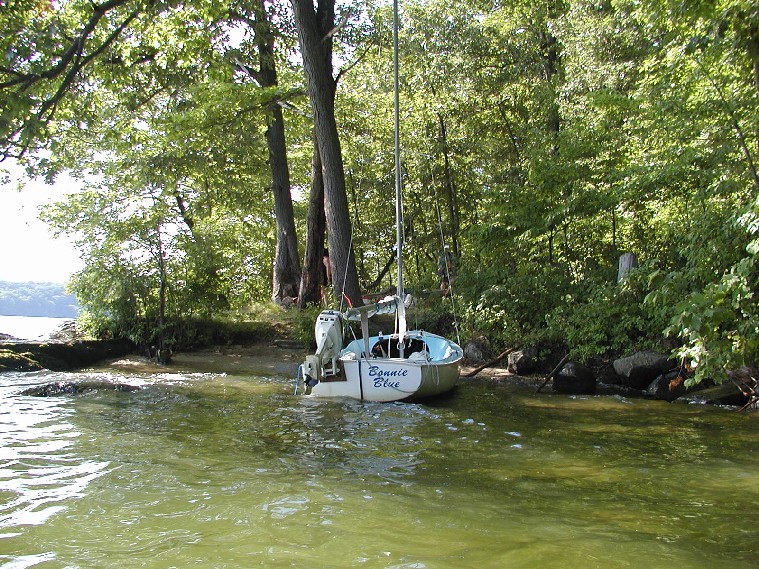 The boat is a Cape Cod Shipbuilding Gemini designed by Sidney DeWolf Herreshoff.
It is a fairly light 16' twin leeboard boat that planes well in a decent breeze. It is fast, comfortable, and maneuverable; though it is rather tender. The seemingly large engine is actually rather light and powers the boat around in a half-plane at full throttle. The lake is beautiful and large, but the wind is unreliable and puffy due to the hilly setting, so the motor is a necessity.
There is no Gemini Class since enough weren't made so, while the lake does host Flying Dutchman regattas, I don't do any racing. In fact, I do most of my "sailing" on a pontoon boat these days. My wife likes it better than hopping around on the tiny foredeck of the sailboat tending to the jib--go figer!!!
Check out the link to Cape Cod Shipbuilding-- unfortunately they don't sell new Geminis anymore, but they do have some some really nice classic designs.
I also play the drums and a bit of bass. I built a sound attenuating wall off the family room in order to save my wife's sanity. I'll post another section on this site with some drumming videos and ideas on building a "music room" in the near future. Stay tuned!
Halloween is coming! Check out the link to some of my favorite scary movies.